When a Niece fuel & lube truck is rented or sold, it's ready for the toughest jobs. While our water trucks, fuel & lube trucks, and fueler trucks are built to last, tires can be a different story. Heavy equipment tires like, fuel & lube trucks, can cost the same as a pick-up truck.
It's imperative to extend the life of fuel & lube truck tires because of the high price tag. Let's take a look at 4 ways you can extend the life of heavy machinery tires.
Improve Haul Road Management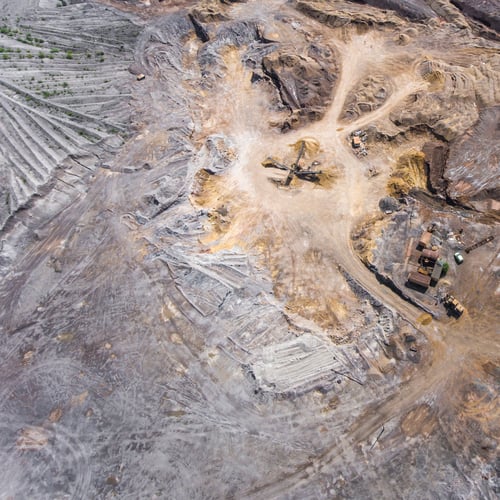 Niece fuel & lube trucks can see the most damage on haul roads. Cuts and impacts will happen to tires when haul roads are not properly maintained. The best way to protect your heavy equipment tires is with proper haul road maintenance and management.
Spillage from truck bodies can lead to to tire damage and therefore vehicle downtime. Mine managers that spend more time and resources to minimize spillage see a decrease in tire damage. Not only should mine managers be aware of spillage but also rocks and debris.
Staying on top of haul roads is a big task but communication with drivers and teammates can help. Provide drivers with radios so they can reach out when they see rocks and debris on the roads that need to be cleared.
Design
The design of a haul road can have a big impact on tire life. A road should be designed three times the width of your widest trucks. This way, trucks won't run into safety berms or get caught in ditches. This also helps reduce wear on the tread when a truck needs to turn around. Instead of tires twisting on top of rocks while motionless, drivers can make a full, clean turn causing less wear on tires.
Another tip for the design of a haul road is the grade. When the grade of roads creeps up to 15% or more, tire life can start to diminish. Experts suggest an ideal grade is between 8-10%.
Driver Inspection
Operators who are aware of the cost of tires on fuel & lube trucks will be more cautious while driving. They will also understand the importance of driver inspections. When drivers review tires and rims before and after use, they can spot potential issues.
This can decrease downtime as minor issues can be fixed quickly.
Preventative Maintenance
When you take your fuel & lube truck in for regular maintenance, make sure they check the alignment and suspension components. Consistent preventative maintenance will not only extend the tire life of your heavy equipment but also the life of the equipment.
Our fuel & lube trucks are built for the dirtiest and toughest jobs. Because of quality in manufacturing our heavy equipment, they are built to last. Help extend tire life by improving haul road management and design, driver awareness, and preventative maintenance.
To learn more about our fuel & lube trucks, call us at 888-643-2372 or email, info@nieceequipment.com.