Finding the right fuel & lube truck for your company's needs can be difficult. With so many different sized tanks and customizable options, purchasing managers can become overwhelmed. Niece Equipment offers several standard models that can be customized to meet your job needs.
Let's take a look at what comes standard on our fuel & lube trucks as well as how we can customize for your job and company needs.
Standard in Every Fuel & Lube Truck
Each of our fuel & lube tanks, as well as water tanks, are dished and flanged. Dished tanks are rounded at each end so the volume of fuel lowers the center of gravity. The flange allows complete welding on the outside and inside of the tank. Some manufacturers choose a flat piece of steel sheeting to cover each end with a single weld to cut costs instead.
Diesel exhaust fluid tanks are standard on all of our fuel & lube trucks. Approximately 5% of DEF is used per fuel amounts. Tanks are made of stainless steel or plastic to protect from the corrosive effect of DEF.
Fuel & Lube Truck Capacities
We named our smallest fuel and lube truck, "FR" for fast response. Lesser amounts of fluids for faster response to get the machine up and running quickly. The NFR600 is a 600 gallon square diesel fuel tank for when you have a smaller fleet to service.
No CDL is required to drive our fast response truck making it perfect for new drivers on the team.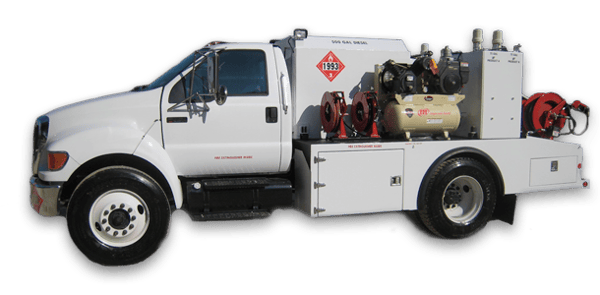 The NFL1000 is a single axle truck with a fuel tank capacity of 1,000 gallons. It comes with a 50 gallon stainless steel DEF tank which meets our 5% standard. For secure storage of tools, there are 4 under bed and 2 on deck lockable tool cabinets with lights.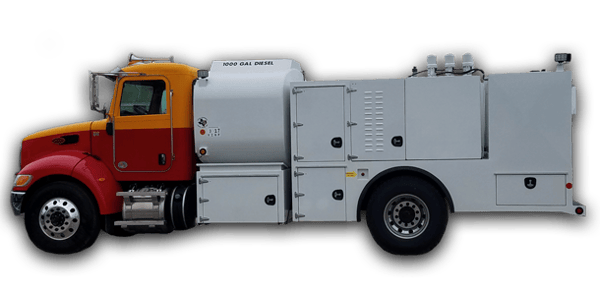 With 2,000 gallon fuel tank capacity and two rear axle, the NFL2000 is perfect for midsize jobs. The NFL2000 waste oil tank allows 150 gallons of waste oil which is 50 gallons more than the NFL1000. It's built with an Alemite diaphragm pump which is designed for suction and discharge.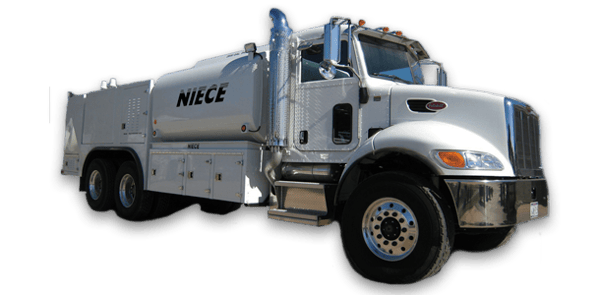 If you need a truck to service large machines in quarries and mines then our 25 ton, off road, articulated truck will get the job done. The NFL3000 has 3,000 gallon fuel tank capacity, hannay reels, stellar rotary screw, auto start air compressor, and total control fuel meter.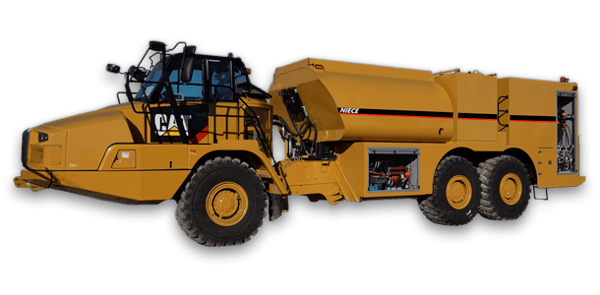 The NFL10000 is the biggest fuel and lube tank we offer. Built to fit on a 100 ton rigid frame mining truck, it fits 10,000 gallons of fuel. It has 5 oil product tanks that total almost 3,000 gallons of fuel. It is designed for cylinder mount to allow the tank to be raised for service.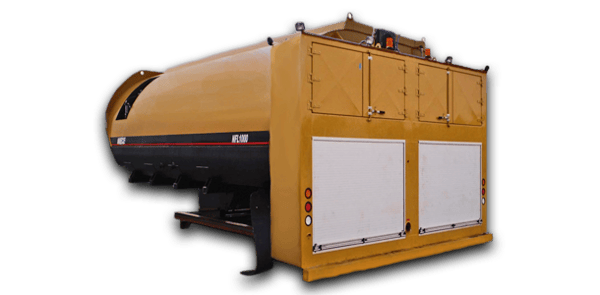 Fuel & Lube Truck Options
Niece Equipment wants to build a truck that is suitable for job requirements. All options require advanced planning so please talk to one of our reps before placing an order. This will help keep costs down as adding or making changes on a partially complete unit can be expensive. Some of the options we can add to your fuel & lube truck are:
Polished aluminum wheels (Learn how to extend the life of your Fuel & Lube Truck tires here.)
Working lights are standard on each corner but several of our customers like to add lights on the side
Increase safety with additional front, rear, and top flashing lights for visibility
We offer grease stations ranging from 125-400 pounds/barrel
Pressure washer for cleaning radiators
Niece Equipment offers several fuel and lube truck options for construction, mining, and governmental agencies. No matter the size of the job, we have a truck for you. For over 35 years we have provided quality and durable equipment for our customers.
To learn more about our fuel and lube trucks, call us at 888-643-2372 or email, info@nieceequipment.com.