Niece fuel and lube trucks are professionally engineered and manufactured to keep your fleet of construction vehicles in high production condition, as well as keeping your drivers safe in all types of conditions found on construction and mining sites. Here are three standard safety features we offer.
Truck Manufacturing and Engineering
Safety should never be compromised when operating a Niece fuel and lube truck, so we take great pride to deliver features and performance benefits on which you can depend on. It is crucial for the safety performance of our trucks to be manufactured and engineered with top of the line materials and care. Niece fuel and lube trucks are built with production grade 8 coarse thread matched system components (bolts, nuts, washers) with ultimate tensile strength of 150,000 PSI minimum.
Niece equipment uses both plain-dry (Plain) and zinc plated (Zinc Pl.) hardware and all product tanks are welded 100% inside and out.
Waste Sump Belly Drains
Lower waste sumps can develop blockages in the waste oil system from small rocks, bolts, nuts, rags, mud or any other foreign objects and can become very hazardous. Niece equips the sumps with belly drains to remove these types of debris.
Emergency Shut Off Switches
All fuel and lube trucks are equipped with two emergency shut off switches. One on the driver side fender and the other on the rear control panel. The switch will shut of the fuel pump when it detects that the vehicle has come to a sudden stop or has been in an accident.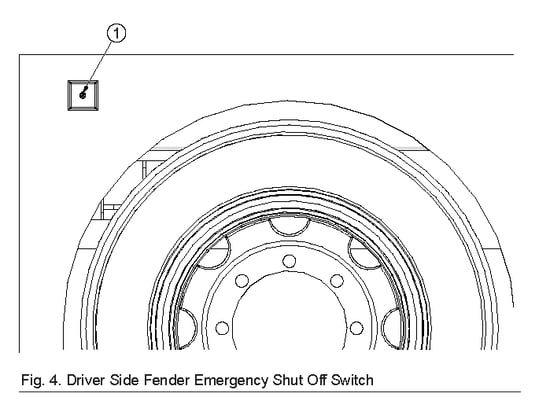 Driver side fender shut off.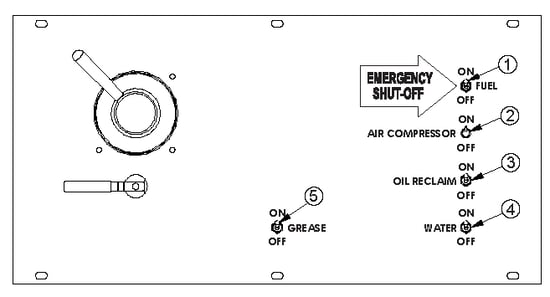 Rear control panel shut off.

Niece Equipment offers several types of fuel and lube trucks with other specific safety features such as exterior and cabinet LED lighting, center walk through design for safer access to machines, tools and fuel tanks. For further information about our trucks, please contact us at Toll Free 1(800) 252-6618 or email at dale@nieceequipment.com.